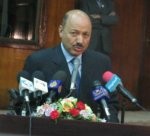 Almotamar.net
- Deputy Premier, the Minister of Interior Dr Rashad al-Alimi on Sunday revealed the Yemeni government intention to prepare a draft law fighting electronic crimes with the aim to control crimes connected to the scientific development in the area of information.
During his opening of a symposium on updating data the Minister said the internet has created radical changes in the methods of gathering and storing, managing, maintaining and publishing and using geographic information, making it as public service wit taking into consideration of preventing misusing modern information and available information by some users for harming national interests.
The minister said the infrastructure of place data would provide a framework of technical criteria, policies and data to support the process of information exchange on places between the concerned sides as well as coordination among them. He affirmed that the data would open opportunity for to all sides to benefit from them in development projects and plans.
Dr al-Alimi also clarified that that a large proportion of information circulated in daily work is of place dimension including maps, aerial and space photos and that matter makes it necessary to follow up the developments in the digital technology and take into consideration the huge development and large spread of the internet.
The minister has urged all government parties to cooperate and coordinate with the ministry of communications and information technology to contribute to success of this vital project and to find a mechanism for dealing with and benefiting from components of data container in the way serving development.
On his part the minister of communications and information technology Kamal Hussein al-Jabri has made it clear that the symposium seeks to lay foundations and specific mechanism for building a place data container that serves all sectors of the state so that the digital map would be the first brick to build this container.