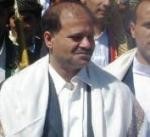 Almotamar.net
- Head of the General People's (GPC) branch in the capital Jamal Abduljhaliq al-Khawlani on Sunday called on all political parties and forces in Yemen to participate in the upcoming parliamentary elections and the honourable contest away from untrue and false slogans.
Al-Khawlani added the citizen has the ability to distinguishing through practice of his political and democratic rights that are guaranteed in the constitution and the law. In the inauguration of the training course for organisation leaderships in the offices of the capital al-Khawlani talked about conspiracies aimed at hampering the upcoming elections.
He said all the conspiracies against the homeland and its development march will collide on the people's rally behind their national unity and their leader President Ali Abdullah Saleh.
Al-Khawlani called on all those reached the legal age to take the initiative and register themselves in voter tables during the next period.