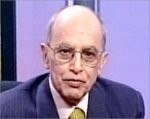 Almotamar.net
- The Political Advisor to the President Dr Abdulkarim al-Eryany expressed his strong regret vis-à-vis the Joint Meeting Parties (JMP)'s non-response to the initiative of President Ali Abdullah Saleh for overcoming aspects of difference between the General People's Congress (GPC) and parties of the JMP on the participation in the upcoming parliamentary elections. He drew the attention that the President presented the initiative in capacity as the President of the entire Yemenis regardless of their political affiliations and partisan connection.
Dr al-Eryany said he delivered the initiative on Wednesday and daily contacts were being held with leaderships of the JMP parties until last Sunday but with no avail.
He said the dialogue is give and take and democracy is based on confidence and partnership an equal rights and "that is what the President's initiative aimed at"
The political advisor to the President has also expressed his hope that the JMP would take the initiative to respond to the President's initiative as soon as possible in service of the higher national interest and in stabilization of democracy away from taking shelter behind the past.
He has also called for looking forward to the future in keenness on stabilization of democracy and political pluralism in the homeland of the 22 May 1990.