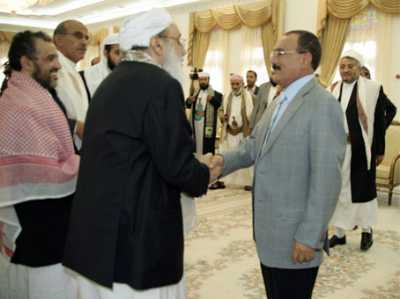 President Saleh receives al-Mouayad
Almotamar.net, Saba - President Ali Abdullah Saleh received in Sana'a Tuesday Sheikh Mohammed al-Mouayad and his aide Mohammed Zayed, who returned home on Tuesday from the United States of America following their release at the end of last week. .

President Saleh welcomed warmly al-Mouayad and Zayed, who have been released last Friday, congratulating them on arrival to their homeland, after being detained unfairly.

The President considered their release as a victory for justice and human rights and a result of Yemen's follow-up to their case from the early days. Saleh thanked the American administration, particularly President Barack Obama for freeing them in response to demands of the country that was very confident of their innocence.

Al-Mouayad voiced his appreciation of the President's efforts and contacts with the concerned authorities in the USA, expressing his thanks defense team that has succeed to reach to the release decision.

Al-Mouayad and his personal aide Zayed have arrived in Sana'a on Tuesday morning.

Ministers of Foreign, Endowments and Guidance and Human Rights as well as Yemeni clerics and MPs and Shoura Council members were on top of the receivers.

Hundreds of Yemeni people have flocked to the Sana'a International Airport receiving them.

On Monday, the two landed in Dubai on a stopover coming from the US.

The two were ordered freed last Friday after they pleaded guilty to some charges against them and sentenced to time served since they were arrested in Germany and extradited to the US in 2003.

The two were arrested in Germany and extradited to the US in 2003 where they have been jailed for more than 6 years.

They faced terrorism charges including providing material support for organizations designated by the US as terrorist.

In 2005 Al-Mouayad and Zayed were sentenced to 75 and 45 years in prison respectively.

In October 2008, the convictions were overturned for them with the US later saying a retrial would be set for the two in 2009.

The health of al-Mouayad, in his 60s, has deteriorated while in prison and he underwent some surgeries.




---

Saudi helicopter shot down in Mareb
An Apache helicopter of the Saudi-led coalition was shot down in Ber al-Maraziq area located between Mareb and Jawf provinces, a military official said Monday.
The official explained that the air defenses of the army and popular committees managed to target the hostile helicopter, which led to its downfall.


Aggression continues to breach ceasefire
The Saudi aggression and its hirelings continued to breach the UN-sponsored ceasefire in some provinces, a military official on Sunday.
The Saudi war jets and hirelings have bombed Haradh border outlet with missiles and artillery shells, the official said.
The hirelings in Taiz province pounded al-Serary village with different kinds of weapons.


Saudi raid kills 10 in Mocha
At least ten people were killed on Sunday in a Saudi airstrike on the coastal district of Mocha in Taiz province, a local official said.
The airstrike targeted a house, which was completely destroyed, the official said, adding the killed, including women and children, were of one family and others also were wounded in the airstrike.


Saudi warplanes wage raids on Sa'ada
The Saudi warplanes launched on Sunday two air raids on different areas in Sahr district of Sa'ada province, a military official said.
The official added the raids targeted two cold storage chambers for vegetables and fruits in Ahma-al-Talah and al-Saifi areas in Sahr district.
The official mentioned no further details about casualties.