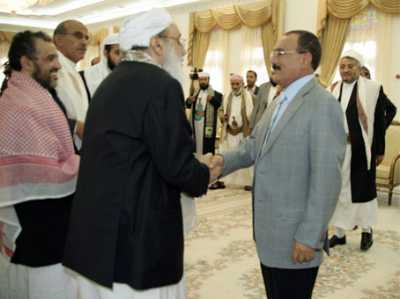 President Saleh receives al-Mouayad
Almotamar.net, Saba - President Ali Abdullah Saleh received in Sana'a Tuesday Sheikh Mohammed al-Mouayad and his aide Mohammed Zayed, who returned home on Tuesday from the United States of America following their release at the end of last week. .

President Saleh welcomed warmly al-Mouayad and Zayed, who have been released last Friday, congratulating them on arrival to their homeland, after being detained unfairly.

The President considered their release as a victory for justice and human rights and a result of Yemen's follow-up to their case from the early days. Saleh thanked the American administration, particularly President Barack Obama for freeing them in response to demands of the country that was very confident of their innocence.

Al-Mouayad voiced his appreciation of the President's efforts and contacts with the concerned authorities in the USA, expressing his thanks defense team that has succeed to reach to the release decision.

Al-Mouayad and his personal aide Zayed have arrived in Sana'a on Tuesday morning.

Ministers of Foreign, Endowments and Guidance and Human Rights as well as Yemeni clerics and MPs and Shoura Council members were on top of the receivers.

Hundreds of Yemeni people have flocked to the Sana'a International Airport receiving them.

On Monday, the two landed in Dubai on a stopover coming from the US.

The two were ordered freed last Friday after they pleaded guilty to some charges against them and sentenced to time served since they were arrested in Germany and extradited to the US in 2003.

The two were arrested in Germany and extradited to the US in 2003 where they have been jailed for more than 6 years.

They faced terrorism charges including providing material support for organizations designated by the US as terrorist.

In 2005 Al-Mouayad and Zayed were sentenced to 75 and 45 years in prison respectively.

In October 2008, the convictions were overturned for them with the US later saying a retrial would be set for the two in 2009.

The health of al-Mouayad, in his 60s, has deteriorated while in prison and he underwent some surgeries.




---

President Hadi inspects work progress in SCER
President Abdu Rabbu Mansour Hadi paid on Sunday a visit to Supreme Commission For Elections & Referendum, SCER, where he was received by the Head of commission, Judge Mohammed Hussein al-Hakemi.
Hadi during the visit has got acquainted with the nature of modern preparations to achieve the new electoral roll based on a national number and in accordance with the technical systems.


Hadi meets with Sheikhs and dignitaries of Shabwa governorate
President Abdu Rabbu Mansour Hadi met on Sunday with a number of Sheikhs, figures, and dignitaries of Shabwa governorate headed by Sheikh Awad al-Wazeer.
After he welcoming them, he reviewed with the nature of the current stage and the importance of working together in order to move the country out of its crisis.


Air strike kills militants of al-Qaeda in training camps
An air strike targeted al-Qaeda training camps killed a number of militants, some are of different nationalities, the Supreme Security Committee said on Sunday.
The targeted training camps were in a remote mountainous region between Abyan and Shabwa provinces, an official at the committee said, adding that the militants targeted were among the leading and dangerous elements of al-Qaeda


Republican decrees
The republican decree No. 64 for 2014 was issued assigning Judge Abdullah Abdullah al-Moghlas as an office director of the head of the Supreme Commission for Elections and Referendum, SCER.
The Presidential decree No. 29 for 2014 was issued appointing Sultan


Air strike kills 10 terrorists in Yemen
An air strike targeted on Saturday a truck carrying 11 terrorists in al-Hazmieh area, al-Bayda province, killing 10 and wounding a terrorist, a security source of the Supreme Security Committee has announced.
the source pointed out that the committee had received intelligence suggesting 11 terrorists traveling by a truck were heading to al-Bayda city and planning to target vital military and civil sites in the city.


Hadi felicitates Bouteflika on winning Presidential elections in Algeria
President Abdu Rabbu Mansour Hadi sent on Friday a congratulatory cable to President Abdelaziz Bouteflika on winning the presidential elections for a fourth term in the Republic of Algeria.
In his cable, the President wished President Bouteflika constant good health and happiness and his people steady progress and prosperity.
"Under your leadership, Algeria could overcome several challenges and achieve great and remarkable successes,'' the President said.


Yemeni-Gulf committee to convene next week
The Yemeni-Gulf Joint Committee is to convene on Monday, March 21, at the headquarters of the Gulf Cooperation Council (GCC) in Riyadh, the 26.sep.net reported on Thursday.
The Ministry of Planning and International Cooperation's Undersecretary Abdullah al-Shatir was quoted by the website as saying that during the two-day meeting will be dedicated to identify Yemen's development needs as well as the ongoing arrangements for the next meeting of the Friends of Yemen Group scheduled for April 29 in London.


GPC chairman receives the ICRC delegation of the Red Cross
Ali Abdullah Saleh, chairman of the General People's Congress (GPC), received Mr. Sidrek Shafaizer, Chief of the International Committee Mission of the Red Cross. The meeting discussed the ICRC humanitarian activities in Yemen in order to provide services in the areas affected by conflict armed.
Shafaizer confirmed that International Committee almost has 250 activist disrupted among many Yemeni governorate like Sana'a, Aden, Taiz, Sa'ada, and Dalea.