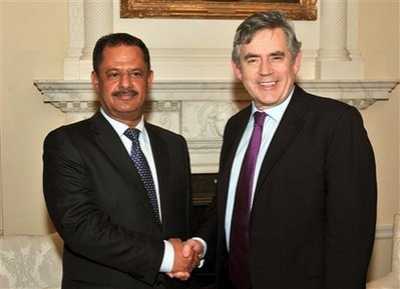 Text of final statement of London meeting on Yemen
Almotamar.net - A concluding statement of the meeting of partners and friends of Yemen was issued in the British capital London on Wednesday evening 27 January 2010.
Below is the text of the statement:

Officials from Yemen, its friends and partners have today met in London to discuss the many urgent problems which the people of Yemen face. The meeting reiterated support for a unified Yemen, respect for its sovereignty and independence, and commitment to non-interference in Yemen's internal affairs. It was clear that economic and social reform by the government of Yemen was key to long-term stability and prosperity.

It was agreed that a comprehensive approach was needed, with strong support from the international community.
* The challenges in Yemen are growing and, if not addressed, risk threatening the stability of the country and broader region. The government of Yemen has identified the following areas which are of most concern and require urgent action.
i) Improved international coordination and support on Yemen;
ii) Work on finding a shared analysis of the challenges facing Yemen, including conditions conducive to radicalisation and instability, and agreement that a comprehensive approach is needed to address them; and ...
iii) The need for greater support and impetus to the political and economic reform agenda, including urgent and concrete action by the government of Yemen.

* The government of Yemen recognises the urgent need to address these issues which will take sustained and focused engagement. It was agreed that responsibility for tackling these challenges lies first and foremost with the Government of Yemen, drawing on the support of the wider region and international community.
* The meeting welcomed:
- The declared commitment of the Government of Yemen to continue to pursue its reform agenda, and to initiate discussion of an IMF programme. This will provide welcome support and help the government to confront immediate challenges.
- The announcement by the GCC Secretary General that he will host a meeting of Gulf and other international donors on Yemen in Riyadh on 22-23 February. The meeting will share analysis on the barriers to effective aid in Yemen, leading to a joint dialogue with the government of Yemen, including on priority reforms.
- The commitment by the international community to supporting the Government of Yemen in the fight against Al Qaeda in the Arabian Peninsula and other forms of terrorism. As well as the recent U.N. Sanctions Committee decisions to designate AQAP, and the commitment by participants at this meeting to fully enforce the terms of the designation of AQAP and its leadership under the UNSCR 1267 regime.
- The determination of the international community to engage further in support of Yemeni government efforts to build law enforcement, legislative, judicial and security capacities. Yemen's partners agreed to support Yemeni government initiatives to strengthen their counter-terrorist capabilities, and to enhance aviation and border security. This will include work on both land and maritime borders, including on strengthening the Yemeni Coastguard.

- The launch of a 'Friends of Yemen' process, which will address the broad range of challenges facing Yemen. It will be supported by two working groups on economy and governance; and justice and law enforcement. These should meet in time to report back to the first Friends of Yemen meeting, which should take place in the region in late March.

The government of Yemen and 'Friends of Yemen' will discuss ways of application of Yemen's national reform plan and this process will form a group by a working team on economy and governance as well as on labour and enforcement of the law.

---

GPC chairman receives the ICRC delegation of the Red Cross
Ali Abdullah Saleh, chairman of the General People's Congress (GPC), received Mr. Sidrek Shafaizer, Chief of the International Committee Mission of the Red Cross. The meeting discussed the ICRC humanitarian activities in Yemen in order to provide services in the areas affected by conflict armed.
Shafaizer confirmed that International Committee almost has 250 activist disrupted among many Yemeni governorate like Sana'a, Aden, Taiz, Sa'ada, and Dalea.


124 children kidnapped in Yemen in 2013
The number of kidnapped children in Yemen during the last year reached 124, including 105 males and 19 females, Head of Seyaj Organization for childhood protection Ahmed Al-Qershi has said.
Al-Qershi added that most of the abducted children were victims of human trafficking .
In a press conference organized in Sana'a by the Monitoring and Advocating Center in Seyaj on the occasion of launching the first annual report on kidnapping children in Yemen 2013
al-Qershi confirmed that only 19 of children kidnapping cases were reported by their parents.


Yemeni Female Prisoners: Between Bitterness And Social Rejection
Safi did not commit any crime that deserved imprisonment. She was only friends with a man in a society that did not believe in that. Since her childhood, she used to have her friend drive her places because she trusted him, and never thought about it. One night, though, his car stalled and he went to repair it. A group of men demanded money from them, otherwise they would call the police and imprison them for immorality. The two friends did not listen, and as a result, Safi found herself in jail.
Safi didn't face as many problems in prison as she did with society and her family. Once they found out, they left her to face things alone. One year passed, and when she was released, her eyes were filled with tears.


AL-Qirbi meets GCC office director
Foreign Minister Abu Bakr al-Qirbi met here on Tuesday with director of the GCC office in Sana'a Saad al-Arifi.
During the meeting, they reviewed the ongoing arrangements for the Friends of Yemen next meeting to be held in London on 29 April, as well as the latest developments in the local and international arenas.


Yemen, US discuss cooperation in information technology
Yemen and the US reviewed here on Tuesday aspects of joint cooperation in the telecommunication and information technology fields.
During their meeting, Minister of Telecommunication and Information Technology Ahmed bin Daghr and Chargé d'affaires of the US embassy Karen Sasahara discussed the possible means of Yemen to benefit from the US telecommunication experiences and technologies.


President Hadi congratulates Marie-Louise Coleiro for being elected as new President
President Abdu Rabbu Mansour Hadi sent a cable of congratulations to new President of Malta, Marie-Louise Coleiro Preca.
Hadi in his cable congratulated Coleiro for being elected by Malta's parliament as a new President of the Republic of Malta, wishing her all success in carrying out her new tasks.
Last week, Marie-Louise Coleiro Preca was elected President of the Republic of Malta. A Parliamentary resolution on 1st April 2014, approved her nomination as the ninth President of Malta.


Poverty And Early Marriage Two Sides For The Same Problem
Anxiety is affecting many Yemeni girls who are groaning under the burden of economic problems, which is one of the primary motivations for child marriage in the country. Mohammed Ali, a father of five daughters, said that he was fired from his job three years ago, and lost the income needed to provide them with a good education and comfortable life.
"I really feel guilty when I accept a marriage proposal for one of my daughters while she is still a child, but nothing is in my hands. Poverty leaves no way in front of me."
Academic studies say that 52% of Yemeni girls accept marriage in their early years to escape poverty. The study also said that boys are also affected by the phenomenon.


Yemen, UK review arrangements for Friends' meeting
Yemen and Britain reviewed on Monday the current arrangements for the Friends of Yemen meeting scheduled to be held in London on 29 April 2014.
This came during a meeting gathered in London Yemen's ambassador to Britain Abdullah al-Radhi and the British Minister of State for International Development Alan Duncan .
Al-Radhi underlined the importance of activating the Group of Friends through the new mechanism to be adopted in the London meeting.
In the meeting, Duncan praised the role and steps made by President Abd Rabbo Mansour Hadi during the transitional phase.


Friends of Yemen meeting in London 29 April
The governments of the UK, Saudi Arabia and Yemen will co-chair the next Friends of Yemen meeting in London on 29 April, the UK Foreign & Commonwealth Office said in a press release on Monday.
The Friends of Yemen was established in 2010 to co-ordinate international support for Yemen and comprises 39 countries and organisations.
"With the conclusion of the National Dialogue Conference (NDC) earlier this year, Yemen has entered a new stage in its transition towards a constitutional referendum and elections", the UK Foreign & Commonwealth Office added.


President Hadi receives sheiks and dignitaries from al-Mahra and Socotra Archipelago
President Abdu Rabbu Mansour Hadi received on Sunday at the Presidential Palace sheiks and dignitaries of al-Mahra and Socotra Archipelago provinces.
At the meeting, Hadi indicated to the critical situation Yemen has been experiencing nowadays, which needs as he said all national efforts in order to translate the NDC outcomes on the ground. "Yemen has got out of its crisis fairly and honorable,'' the President said.
He confirmed that the cooperation by the international community averted Yemen from dragging into several risks and dangers based on the expending the responsibility, wealth, and power under a new federal system which would achieve justice and fair.